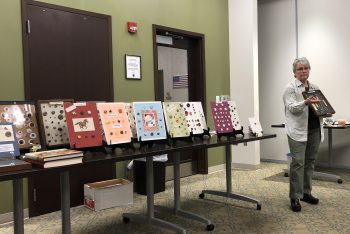 Last week Linda Hickey of the Rochester Button Club was invited to give a talk to residents in the town of Irondequoit on the history of buttons and why people love to collect them as a hobby.
Most everyone knows of at least one family member who has a jar or stash of buttons in their house. But how often do people think about where the button came from, or who wore the button? This everyday object is treated much like a worthless penny. But when one considers how long the button and other closures have been around, the vast quantities, and multitude of materials a button is created from, one starts to think about a button in a more appreciative way.
When Linda presents, it's not a 'death by PowerPoint' slide presentation. Linda supplements her talks with her own personal collection of buttons, books and crafts that she displays on several tables making it easy for her to show real examples of the various types of buttons collectors love. She has everything from metal picture buttons to bone underwear buttons. And Linda encourages attendees to pick them up for a closer look.
Where a lot of collectors look for 'pretty' buttons, Linda likes buttons that she believes most people would consider ugly. She also prefers collecting more modern buttons. Despite what she likes to collect, she has a big selection of many types of antique, vintage and current day buttons on cards. Everything from calico buttons, military buttons, celluloid, Bakelite, glass of all colors, vegetable ivory, bone, horn, shell, and then all of the various metals – brass, silver, pewter… the types are endless. In her talk she shares what was popular during various centuries and what's popular today.
At this session, the attendees expressed a new found appreciation for buttons, and all agreed it was a presentation worth hearing and a hobby worth considering.
If you are interested in having a button club member provide a similar demonstration about buttons, don't hesitate to contact a club president in your area. The New York State Button Society Presidents are listed in this website under " Our Clubs."